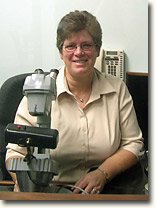 Florence Kimberley
Graduate Gemologist
613-546-2261
About Florence
Florence Kimberley is a Graduate Gemologist with over thirty years experience as a fine jewellery appraiser and sales associate. She has diplomas in diamond grading, coloured stones and gem identification from the Gemological Institute of America.
Florence was employed by Kingston's premier jeweller - Kinnear d'Esterre Jewellers from 1973 to 2004. During her time at Kinnear d'Esterre, Florence continued her education with the American Gem Society and completed the highest title in the industry, Certified Gemologist Appraiser.
When Kinnear d'Esterre Jewellers closed in 2004 Florence recognized a need in the Kingston market and decided to continue the tradition of quality and excellence in jewellery appraisal services.
Florence has lived in the Kingston area all her life and is well known to many requiring appraisal reports. She is a trusted and familiar face in this area who is known for the quality of her work.
Cleaning and checking your jewellery
It is important to have your jewellery cleaned and checked on a regular basis. Florence suggests this be done every six months.
Periodic examination of your jewellery will ensure that any loose stones, worn claws or gold can be corrected before a loss occurs.
Drop in anytime during business hours and Florence will inspect and clean your jewellery. This is a free service.